The UNIPRENEURS initiative recently awarded Prof. Dr. Jan-Paul Lüdtke from Wedel University of Applied Sciences and Prof. Dr. Franz Xaver Kärtner from the University of Hamburg (together with DESY/CFEL) for their outstanding commitment in the field of entrepreneurship. Both award winners are part of the Startup Port network, were selected from a total of 700 nominations and are representative of 20 distinguished professors from all over Germany.
Prof. Dr. Jan-Paul Lüdtke from Wedel University of Applied Sciences honoured
Prof. Dr. Lüdtke, head of the e-commerce course and project manager for the start-up culture at Wedel UAS, was honoured by the UNIPRENEURS initiative for his outstanding commitment to entrepreneurship. With the start-up support "Startup Bridge", which is closely linked to Startup Port, the start-up culture has been deeply anchored in everyday university life at Wedel UAS since 2020: "I accept the award on behalf of all colleagues with whom we have successfully promoted the topics of start-up and innovation culture at Wedel UAS in recent years," said Lüdtke, thanking all those involved. Through the partnership with Startup Port, Wedel UAS is strengthening its position in the Hamburg metropolitan region as an institution that has been facilitating successful start-ups for decades. These include start-ups such as "VAARHAFT", "toern", "Immerzed", "Detach Entertainment" and "Female Lights".
As part of his tribute, Lüdtke highlighted the planned establishment of the Gründungs- und Technologiezentrum (GTZ) in Wedel, which will thus also become part of the Startup Port. The direct access to competences in important future topics speaks in favour of the GTZ. These include Industry 4.0, sensor technology and smart systems, data science and artificial intelligence, environmental technology, 3D printing, virtual and augmented reality, smart grid, digital marketing and e-commerce as well as digital innovations in the health sector. Through the connection to the lab infrastructure and the lecturers, founders can draw inspiration from the Startup Port platform network and receive important assistance to quickly create a prototype and a Minimal Viable Product. "I am committed to building a network between established companies and startups for a more innovative and powerful economy throughout the district," concludes Lüdtke – the Startup Port will actively support him in this endeavour.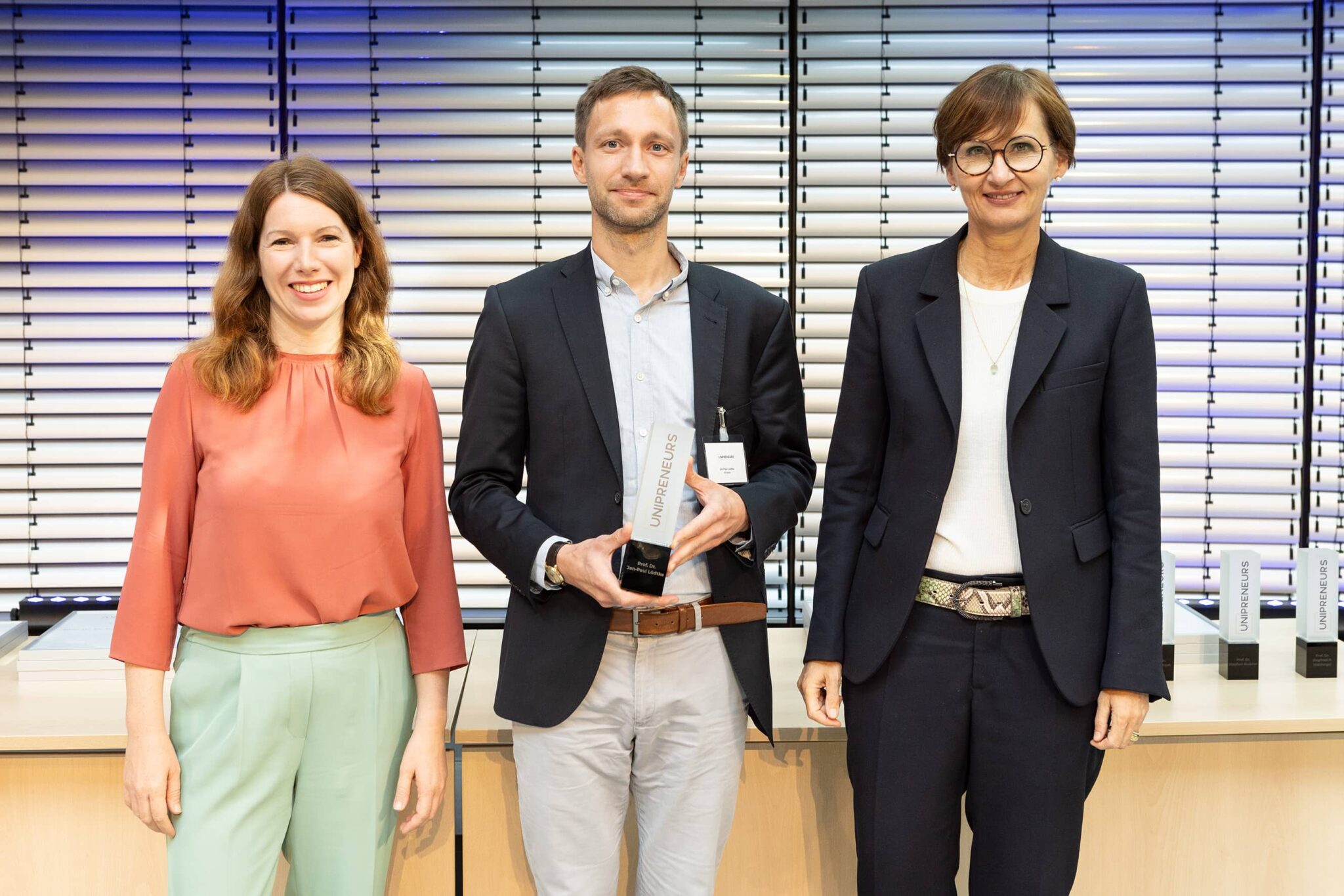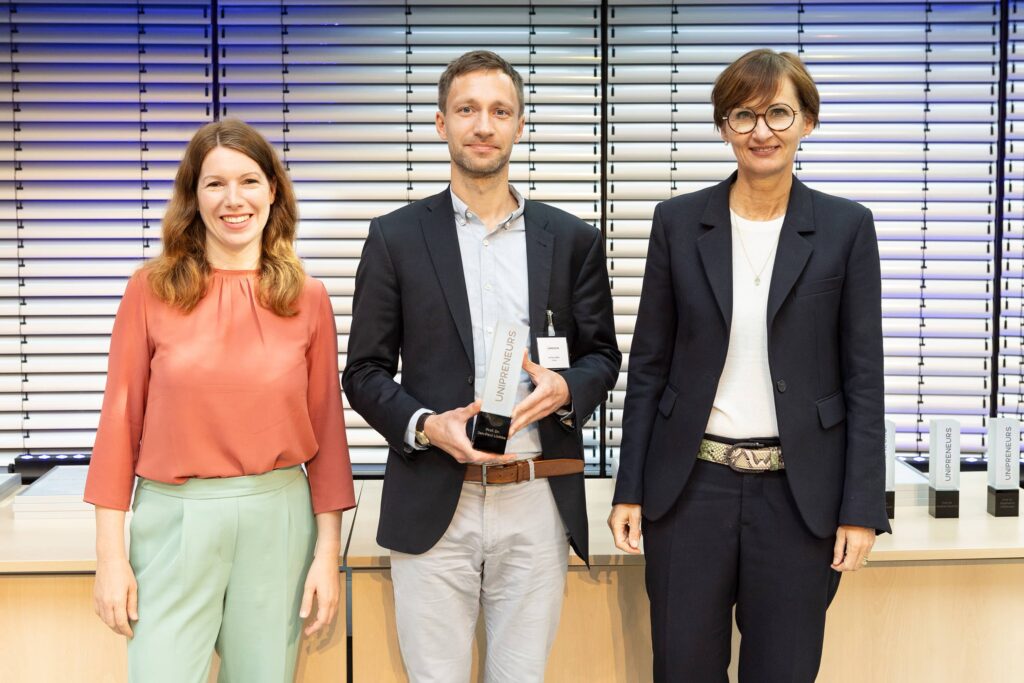 Prof. Dr. Franz Xaver Kärtner from the University of Hamburg (with DESY/CFEL) honoured.
In addition, Prof. Dr. Franz Kärtner was honoured by UNIPRENEURS for his entrepreneurial spirit. The scientist conducts research at the Cluster of Excellence "CUI: Advanced Imaging of Matter" at the University of Hamburg and heads the working group "Ultrafast Laser and X-ray Physics at the Center for Free-Electron Laser Science (CFEL)" at DESY. Kärtner is the founder of the start-up "Cycle GmbH", which is supported by Startup Port. The start-up is a so-called deep-tech company. This means that it does not address end consumers, but offers industry and science new and particularly innovative technical solutions, in the case of "Cycle GmbH" in the field of ultra-precision synchronisation. With his start-up, Prof. Kärtner wants to help customers precisely control and synchronise large systems such as free-electron lasers, large ultra-short-time laser systems and radar telescopes.
At the award ceremony, Prof. Kärtner emphasised the importance of cooperation between science and industry: "Spin-offs are important for turning the results of cutting-edge research into innovations, thus strengthening Germany as an industrial location and retaining the best specialists and innovators in the long term". The Startup Port network was established for this transfer work.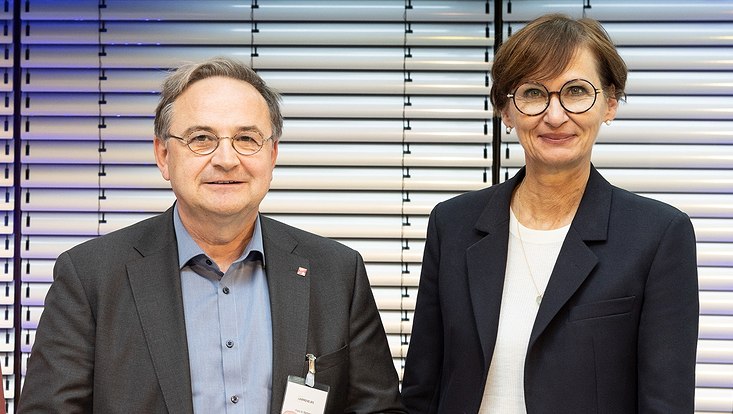 UNIPRENEURS initiative underlines importance of cooperation
The award ceremony took place at the Allianz Forum in Berlin in the presence of the Federal Minister of Education and Research, Bettina Stark-Watzinger. With these awards, the UNIPRENEURS initiative, which is backed by a renowned consortium of investors and industry associations, once again demonstrates how indispensable close cooperation between universities, universities of applied sciences and the growing start-up scene, represented by platforms such as Startup Port, is for Germany as a centre of innovation.
About UNIPRENEURS
UNIPRENEURS is an initiative to strengthen spin-offs at German universities. It was launched by Matthias Hilpert and Martin Schilling. The Federal Minister of Education and Research, Bettina Stark-Watzinger, and the Federal Minister of Economics and Climate Protection, Dr. Robert Habeck, have jointly assumed patronage of the initiative. UNIPRENEURS awards the highest recognition in Germany for outstanding commitment in the field of entrepreneurship at universities.