The scientists at Lignopure have developed a unique technology to process residual materials from the pulp and bioethanol industry and thereby replace harmful ingredients in our daily products. The startup was founded at the Technical University of Hamburg (TUHH), works together with the Institute of Thermal Process Engineering and is supported by Startup Port. Wienke Reynolds – co-founder and CTO of Lignopure reports on the challenges and advantages of having their own production facility.
The two TUHH doctoral students Joana Gil and Wienke Reynolds have produced 100 per cent bio-based ingredients from lignin as part of their research, which can be used in cosmetics, for example, but also in 3D printing or even as a starting material for insulation materials. The start-up's main focus is on life science applications. The first commercial product is the natural, multifunctional cosmetic ingredient LignoBase, which is produced in the company's own commercial demo plant.
The patented core technology was first developed at TUHH, later officially taken over by Lignopure, further elaborated and scaled up. Since October 2018, the startup has been receiving start-up advice and has thus received funding such as the InnoRampUp programme of the Hamburgische Investitions- und Förderbank. In addition, the startup has already received several awards and has been able to announce several distribution partnerships.
"When Lignopure was officially founded in 2019, we were still in the process of validating various high-value applications and associated business models. However, it soon became clear that the path had to lead into the life sciences. Our goal was to tap into various market sectors such as the cosmetics, food and pharmaceutical industries. When we closed our seed funding round at the end of 2020, it was clear that we would invest a significant part of it in building our Lignopure production facility to become a pioneer in the production of cosmetic and nutraceutical ingredients based on non-soluble lignins in Europe," Wienke Reynolds reports in the company blog about building her own production facility; she is co-founder and CTO at Lignopure.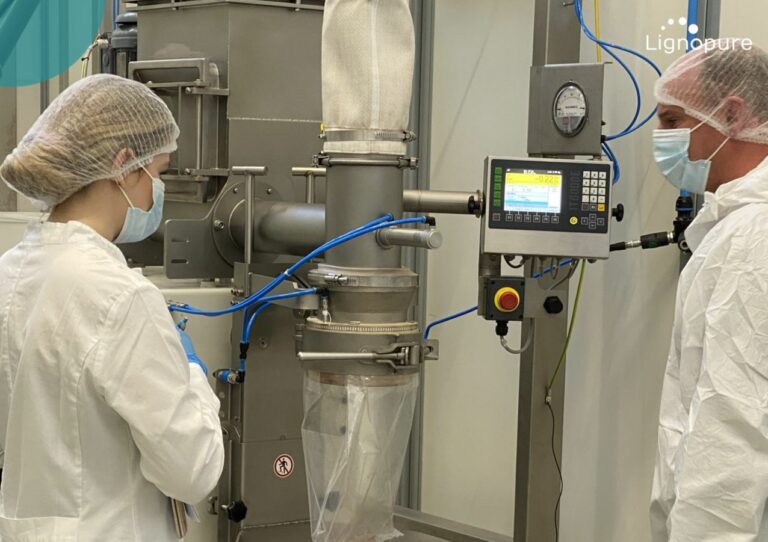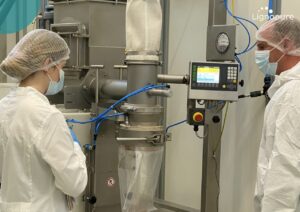 Advantages of having their own production facility
Although it is rather unusual to scale up a core technology already in the seed investment phase, having its own production facility offered the startup the best opportunity to not only prove the scalability and functionality of Lignopure's particle technology, but also to produce relevant quantities of lignin-based ingredients such as LignoBase with reliable quality and the required hygiene measures for its future clientele.
"The ingredients of Lignopure require a special combination of individual steps and the application of our patented particle technology. It was difficult to find someone who could implement the processes and controls we required. So we had no choice but to take the plunge and open our own production facility. Here we were able to integrate the necessary structures and operating units into our own facilities and thus develop our quality and production process for LignoBase," Wienke Reynolds explains the start-up's move.
The search for a suitable building
For Lignopure, it was particularly important to use an existing hall in order to meet the company's sustainability philosophy: "More than a third of a building's greenhouse gas emissions occur before it is used, during construction – so it is better to use an existing building and extend its service life than to construct a completely new building," explains the technical manager. But this was not easy, because the company needed a certain height for the industrial facilities and a suitable floor with drainage for a hygienic process. A suitable solution was found in the Sirius Business Park in Buxtehude, Lower Saxony, south of Hamburg.
Elaborate conversion
Dry walls were erected to separate the hygienic wet and dry production areas, the filling area and QC lab, the storage areas and the airlocks. Everything had to be planned precisely in order to be able to optimally position the most important plant components before the walls were finally sealed. Water and electrical installations, piping and utilities were added in a second step, mainly coordinated by Lignopure's technical staff. A first water test run finally took place in December 2021, followed by the first trials with real lignin in January and February 2022. After the final cleaning and sealing of the hygiene area, the Lignopure team was finally ready to start test operations and produce the first LignoBase samples.
Successful adventure
"The development of the production line was an adventure, but thanks to the good work of the Lignopure team as well as our contractors, we are now able to produce lignin-based alternatives for different industries", Wienke Reynolds is satisfied: "From the first days of our seed investment until today, everyone at Lignopure has worked hard to bring our natural bio-based solutions to the world market. It is therefore very satisfying to see the initial successes of our first cosmetic line, LignoBase. We would also like to take this opportunity to thank Startup Port for their support and for always being there to advise us on the company's development," concludes Wienke Reynolds. The startup has its sights set on further applications and products and is looking forward to further optimising their processes in order to be able to offer high-quality lignin-based solutions for as many life science industries as possible with their own Lignopure production facility. They are actively supported in this by Startup Port.