Business idea: Microlab as an economic alternative for animal experiments
Industry: Research
Year of foundation: 2020
The start-up mo:re from the Technical University of Hamburg is developing a microlab prototype that is intended to revolutionise research with human cells
mo:re - Microlab as an economic alternative for animal testing
The start-up mo:re from the Technical University of Hamburg (TU Hamburg) is currently developing a microlab prototype that aims to revolutionise research with human cells. Founder Lukas Gaats and his team want to make life easier for researchers by automating cell culture processes, among other things. The goal is that every laboratory will later have such a microlab to make research with 3D cell models as an alternative to animal testing simple and affordable.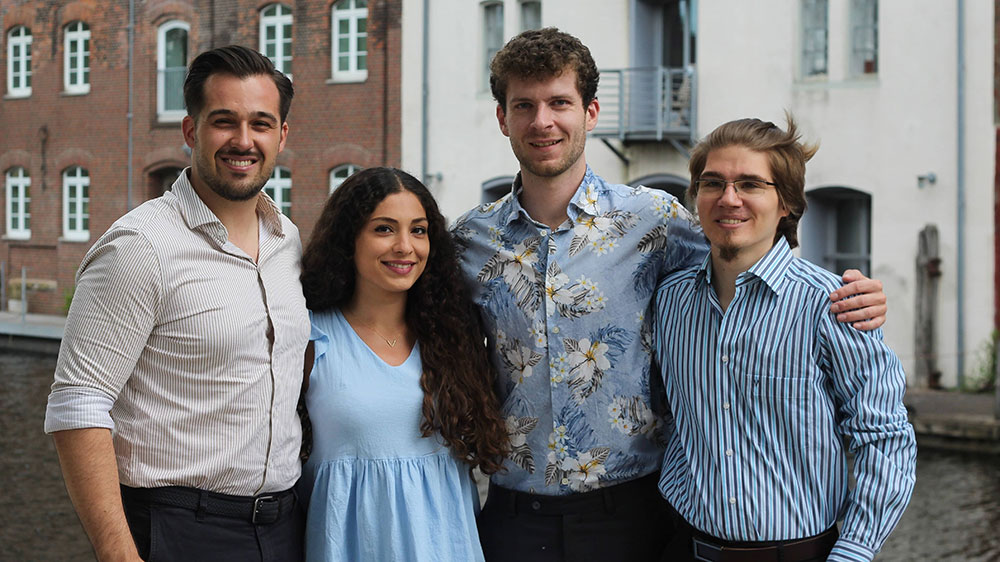 Cell cultures are suitable for observing molecular and cellular processes and for developing diagnostic procedures and drugs. In the field of cell research, cell cultures have been created in a glass vessel via nutrient solution for over one hundred years. This is called two-dimensional (2D) space. About twenty years ago, a more meaningful research method emerged in 3D, where the cultivation of cells takes place in an even more realistic environment. However, this method has not yet established itself in the market because it is more expensive, more complicated and has a higher error rate. The start-up mo:re wants to solve exactly this problem by making 3D cultures reproducible with hydrogels. Hydrogels are modern biomaterials that imitate the extracellular matrix – the tissue that surrounds cells in the body – so that the cell culture also grows in the laboratory under realistic conditions. In addition, the various work steps are to be bundled in a robot so that they can run automatically. Hence the company name mo:re, a combination of the terms modular and reproducible.
The founding team
During his MBA (Master of Business Administration) at the Technical University of Hamburg, Lukas Gaats, a medical engineer from Hamburg, met his co-founders David Hackenberger and Niklas Gollenstede: "The three of us chose the entrepreneurship specialisation at the Northern Institute of Technology Management (NIT) together. Then it was all about business case development. In the process, we discarded various ideas."
Lukas came up with the idea for the start-up during his semester abroad at the University of Brisbane. The project was already running there as a PhD thesis, but the PhD student withdrew from the project after his PhD for personal reasons. Lukas seized the opportunity and tackled the topic as part of his PhD. With Professor Dietmar W. Hutmacher, he had a renowned expert in the field of cell research there as a mentor, who still accompanies his start-up as an advisor today. The approach at the time regarding the 3D perspective was not yet fully developed, but had great potential to facilitate work in laboratories worldwide – Lukas' mentor was convinced of this.
After returning to the NIT, Lukas pitched the idea to a potential investor, among others, and received the best feedback. Especially with regard to its relevance. "By then it was already dawning on him that something could come of it, but he was still alone at the time," reports David, who was born in the Harz region and completed his Bachelor's degree in mechanical engineering at the TU Hamburg: "So he approached me because he needed hardware for this, which is my area of expertise. The request came at just the right time for me, because I had decided to give up my own business idea shortly before." A little later, fellow student and software developer Niklas Gollenstede from Buxtehude also joined the team.
In July 2021, the trio from the TU Hamburg then met Negar Shahmoradi at a start-up boot camp in Munich, whose subject focus is medical engineering and material sciences: "We met Negar at a start-up competition. There, start-ups were assigned to students and it worked out so well with her that we asked Negar if she would like to join us – fortunately, she said yes," Lukas reports. Negar was born in Tehran, did her bachelor's degree in mechanical engineering there and then completed her master's degree in materials science in Trento, Italy. She is currently doing her Master's in medical engineering at the Technical University of Munich. So the start-up was well positioned for the time being in terms of complementary competences (medical engineering, mechanical engineering, software engineering and materials science).
Funding and employment
In June 2020, the startup began writing the business plan and looked around for consulting and funding opportunities, Lukas reports: "In the process, we quickly became aware of "Startup Dock" (Editor's note: "Startup Dock" is today "Startup Port @TUHH") or "beyourpilot" (Editor's note: "beyourpilot" will be called "Startup Port" from July 2023). David made contact and the start-up consultant Dr Andrea Otto then advised us. She is a biologist herself and was thrilled to be mentoring a biological topic for the first time in her eight years of consulting." The start-up consultant supported the start-up and made them fit for the applications for the respective funding. She pointed the team to the appropriate Calls for Transfer funding (C4T), which they then successfully applied for together. "This also went through Prof. Dr.-Ing. Ralf Pörtner from TU Hamburg. He also supported me during my semester abroad, for which we are very grateful. He was always there for us," says Lukas. Calls for Transfer funded the start-up from August 2021 to April 2022, thus enabling the start-up phase of the company to be founded. EXIST funding then began from August 2022. In the meantime, the three NIT scientists have completed their two master's degrees and have been working full-time ever since. But that's not enough by a long shot: "We need to grow in terms of personnel. The hardware as well as the software area is extremely time-intensive in development. In addition, we only have a small amount of sales experience – here we especially need reinforcement with a network in the biology sector. To be able to finance this, we are currently interested in InnoRampUp funding. Also to create a position for a working student – or a full-time position."
"Finding the necessary expertise for our open positions is quite easy. However, it's hard to spot people who want to be employed at a startup. It's an uncertain work environment. And especially our sought-after positions are usually well remunerated. We are competing with more established companies that can often offer more. Of course, the person has to know what he or she is getting into with us. Because we can't say what will happen next year," David notes. The young company hopes to recruit the targeted clientele at start-up-related events, because the challenges of a start-up are known there – the expectations are right.
The time and visual effort required to realise the vision
"We want to create a platform, both on the hardware and software side, that makes it easy for you to get started as a researcher in the field of 3D cell cultures. That was not particularly possible with previous devices. We are developing a microlab that automates and continuously documents standard processes for characterising and producing 3D cell cultures. This makes data-driven research possible for the first time. At the heart of the microlab is a data marketplace where standard protocols and datasets can be created, shared and monetised. Our vision is that later on, every lab will have such a microlab, enabling affordable 3D research. This is the only way to convince researchers to adapt new technologies and forgo studies on animals," David explains.
"So our vision can be well described. However, the road to realisation is long. The first steps to a resilient prototype take time. Besides developing the automation, for example, a lot of data has to be generated in biological studies to convince users and investors of the benefits of our technology. The hardware itself is quite standardised, so only very selected aspects can be protected. That's why we focus a lot on our process knowledge and the advantage we get from the data generated in the micro-lab. The strategic focus on the application and the data also fits well into our business model, because nowadays selling robots alone is not enough to scale. Our vision is thus difficult to communicate. In the XPRENEURS programme, we want to develop the digital and scalable part of our business model, make connections for pilot studies and prepare for investors. The interesting things that are costly, those come first: the real innovation becomes visible when all the components come together. As it looks at the moment, we will manage to create a presentable basic product through the EXIST funding. With that, we can prove that it works. Then we'll be so deep in the matter that we can start protecting things," says Lukas.
Start-up financing and market entry
The startup has a research demonstrator as well as published studies that prove the effectiveness of the process. By 2023, the startup aims to complete the integration of analytics. Market entry is targeted for Q4 2023. By selling hardware and software to research institutions and biotech companies, mo:re is aiming for an annual turnover of 5.5 million euros in 2024. According to the startup, this requires start-up financing totalling 1.6 million euros.
If Lukas Gaats and his team can convince the right investors, the actual innovation of their idea can finally become visible: Through mo:re, 3D cell research will be revolutionised by making individual process steps comprehensible through automation and data-driven research. In this way, researchers can easily gain new insights and save time and money. This paves the way for the development of new diagnostic methods and medicines without animal testing.