Student Training for Entrepreneurial Promotion Sustainability
The step into self-employment is often connected with great uncertainty. In STEP S, you develop a business opportunity into a business model ready to be launched. So, you'll be able to figure out if starting your own company is something for you. STEP S focuses on sustainable entrepreneurship and sustainable business models. In addition, STEP S training will help you build practical entrepreneurial skills to launch your impact startup.
The Student Training for Entrepreneurial Promotion Sustainability (STEP S) is an action-oriented entrepreneurship training focusing on sustainability. Interested students learn about the entrepreneurial process by working in teams on a start-up project.
During the 12 sessions, evidence-based, entrepreneurial action knowledge is developed that can be directly applied to one's start-up project. The training is accompanied by experienced trainers who support the teams.
The 12 sessions cover the complete entrepreneurial process and provide content from sustainable entrepreneurship, management, and psychology.
The positive effect of STEP
STEP creates self-confidence: STEP participants exhibit higher entrepreneurial self-efficacy after training and in the long term than members of a comparable control group.
STEP helps develop ideas: Participants in the training identify more business ideas than control group members.
STEP promotes the creation of businesses: One year after training, STEP participants start 33% more companies than a comparable control group.
STEP makes people happy: STEP participants show higher life satisfaction in the long term than the control group.
The unique selling points of STEP:
Action Principals are the core of each session. Following those rules of thumb raises the likelihood of being a successful entrepreneur.
STEP is evidence-based: The content and training methods are based on scientific findings.
The training has been successfully conducted with over 10,000 people on three continents and evaluated according to the highest scientific standards.
When does it take place, and how can I participate?
The program consists of six training days. These occur weekly on Fridays from 9 a.m. to 3 p.m. at various innovation locations in the Hamburg metropolitan region. The first training day will take place on 27.10. at Startup Port @TUHH. The course language is German. The start-up projects are further developed independently within the teams in the work phases between the live sessions.
In the end, there will be a final pitch-presentation.
The program requires a reasonable amount of time. Depending on the start-up project, the program will require 5 to 10 hours of effort per week (in addition to the training days).
Successful participation in the training (participation in at least four training days) will be certified.
Who can register?
All members (students and staff) of the following institutions:
DESY
University of Applied Sciences Wedel
Hamburg Media School
HAW Hamburg
Helmholtz Center Hereon
Helmut Schmidt University

Leuphana University Lüneburg

Hamburg University of Technology
UKE Hamburg
Hamburg University
There will be only a limited number of participants.
Target group:
People interested in founding a company who do not yet have a concrete intention and idea for launching a startup and are attached to sustainability's importance. The program is specially designed for students (bachelor, master, doctorate) but is also open to other persons (e.g., employees of the consortium).
Format:
Six training days, in person, course language is German
Start:
27.10. at Startup Port @TUHH, more info after registration
Cost:
Free of charge for members of the affiliated institutions
"*" indicates required fields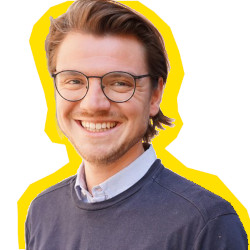 Leuphana University Lüneburg
Program Manager STEP