Business idea: Compostable plastic substitute
Industry: Packaging
Year founded: 2020
The traceless material is compostable after a few weeks and can be eaten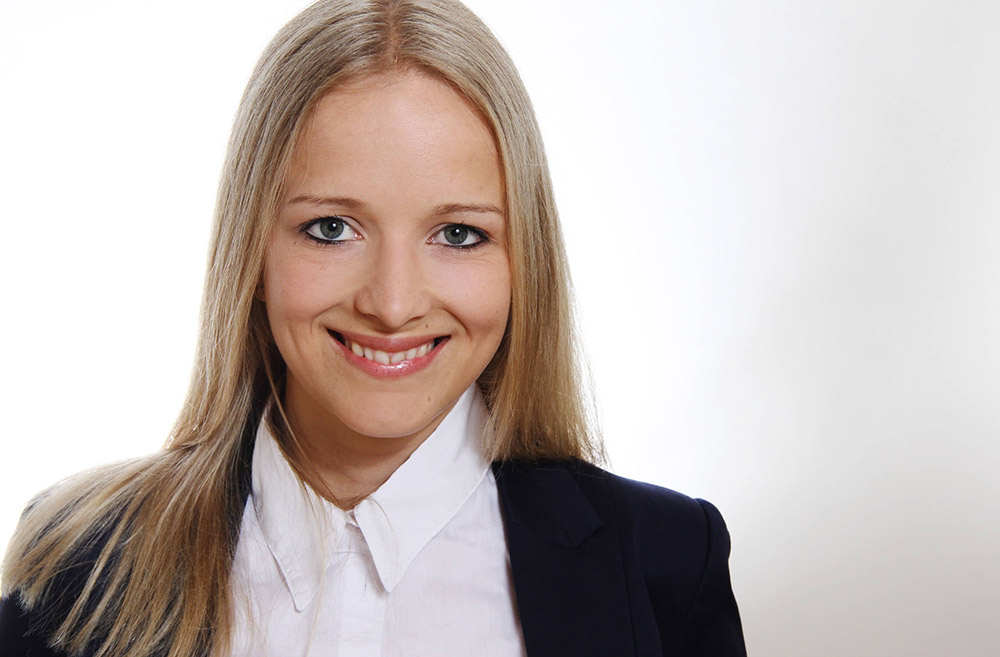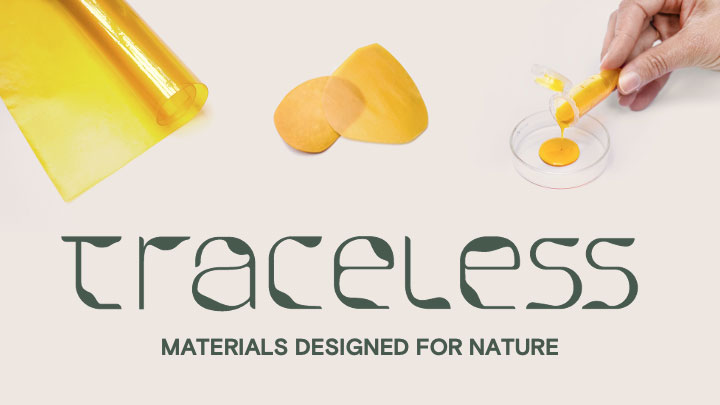 In the middle of the Bachelor's phase, Anne Lamp had a crisis of purpose: What am I doing here?! What can you do with a degree in process engineering that makes sense, apart from operating columns and producing pesticides? "This profession does not exactly contribute to protecting the environment. The opposite is rather the case. I've always been close to nature and environmentally conscious, but that didn't fit with my career prospects. So I started looking for a positive approach: That's how I came across Cradle To Cradle (C2C) and started looking into circular products and production processes. Later, during my doctorate, I then geared my research towards the biological cycle and started looking for alternative materials," explains the now doctoral researcher. Born in Hamburg, she has been active in the Cradle to Cradle NGO for six years, including as founder and leader of the Hamburg regional group. She is also involved in the NGO's educational work as a C2C trainer. These voluntary activities are a matter of honour for Anne.
The vexed environmental problem
Since 1950, plastic produced according to the linear production approach (cradle to grave) has been significantly damaging the environment in various ways. 85 percent of the plastics ever produced worldwide still lie in landfills or are increasingly polluting the oceans. In particular, single-use products, which often cannot be reprocessed even in countries with a functioning recycling system because they are not recyclable, threaten our environment and accelerate climate change. This is why, for example, so-called 'single-use plastics' will be banned in the EU from 2021.
At the Institute of Environmental Engineering and Energy Economics (IUE) at the Hamburg University of Technology, Anne is therefore researching environmentally friendly production processes for the manufacture of alternative materials for all those products that can easily end up in the environment. Her declared goal is to stop plastic pollution.
The potential solution
Anne Lamp did her doctorate in the field of recovering valuable materials from agricultural residues. In parallel, she developed a process for a new, compostable material: "This is how my training as a process engineer and my voluntary work with C2C flowed into each other. That's how traceless came into being. All of a sudden, these six years of voluntary work paid off all the more: the network I built up, the mindset of developing products for the biological or technical cycle through their design alone. I have benefited a lot from this experience."
With new inventions and developments, people often ask how disruptive they are. Anne Lamp has developed an unprecedented process to produce a new material that can be used as a plastic substitute. The technology she has developed makes it possible to produce a new material from agricultural industry residues that can be used to make a film, a dimensionally stable material and coatings. These are 100 per cent bio-based, do not compete with food production, do not require plasticisers or other additives that are harmful to the environment or health, and are compostable at home. The new material has mechanical, barrier and storage-stability properties comparable to those of conventional plastic films and rigid plastics: "All kinds of products that end up in the environment far too often, such as to-go products or food packaging, can be replaced by these compostable materials. Of course, the aim is not to throw these products carelessly into the environment. But if they end up there, our materials do not pollute the environment," explains the researcher. So her substitute product already has good properties, but sometimes still needs to be optimised so that they work for the respective application: "I did my doctorate as a scientist at a research institute for five years. This is one of the most critical professions there is. On top of that, I'm a woman, so we're even a bit more critical," Anne explains with a laugh, explaining her natural scepticism.
But the question is also where we want to go with the material. In many areas, such as packaging or straws, her substitute material can already shine. However, according to Anne, we are still a long way from a machine-proof coffee cup that later decomposes itself: "Depending on the application, various requirements must be guaranteed, such as heat stability, UV stability, water resistance, etc. – and at the same time we want to maintain degradability. The material that fulfils all requirements and is compostable at the same time does not yet exist. We cannot expect a material that can be put in the dishwasher at 100 degrees and then degrade in the home compost within 2 weeks. But our material doesn't have to be able to do that either, because there are other good solutions for that from the technical cycle, such as the reusable coffee cup. The applicability of traceless focuses on products that are short-lived and that unfortunately often end up in the environment today."
Inspiration from the start-up culture
If Anne hadn't stumbled upon the startup world a year and a half ago, she probably would have limited herself to just researching until today. "Christian Sigmund, the founder of Wildplastic, inspired me to start up. From the startup world, I learned this self-confidence regarding my own idea. And today I know that what matters in a pitch is the 80 per cent we've already achieved, not the 20 per cent that's still missing."
Versatile support
At that time, she also came across Startup Dock (Editor's note: now Startup Dock is named Startup Port @TUHH). A first company had shown interest in Anne's material at the time: "I was unsure and didn't know my options. Startup Dock advised me and gave me tips. Sebastian Bartosch was my main contact person, but Konstantin Kollar and Dr Andrea Otto also advised me on the start-up. To this day, they are my sparring partners when it comes to my pitch deck. For example, we also talk about our strategy, how we can realise things. These are all business components that you think less about as a researcher," she says.
"In addition, Hamburg Innovation helped me a lot when I applied with my biofilm project a year ago to "Calls for Transfer" (C4T), a funding programme for technology transfer and innovation at universities. And when I was accepted towards the end of the year – that was great! Because if you're sitting alone at university with an idea, you don't have any money to begin with. I applied again successfully with bioplast (now traceless plast) and got the funding. C4T is simply unique in terms of speed: it takes less than two months from application to acceptance – you won't find that anywhere else," says Anne, expressing her satisfaction.
The team behind the idea
Until the beginning of 2020, Anne Lamp says she was only doing research on the topic on the side due to her doctorate. "At the time, I took part in the 'Act On Plastic Challenge' of Project Together, where systemic ways out of plastic pollution were sought and promoted. Johanna Baare – now COO at traceless – was my coach there," Anne says about how she found her co-founder. The coaching allowed them both to get to know each other for about half a year and gain the necessary trust. "In spring 2020, I realised that I needed a permanent partner for strategy development and financing, and Johanna just had time again then, because her startup at the time had to save through Corona. She has been with me since May 2020 and we complement each other perfectly: Johanna has one hundred percent complementary expertise with her experience in strategy consulting and her MBA. She lives in Copenhagen, which is why everything is running remotely at the moment – but that's more the norm at the moment anyway," says Anne Lamp.
At the moment, traceless does not yet have any full-time employees, but it already has a relatively large and multidisciplinary team of comrades-in-arms: Janika Ofterdinger assists with business development. Johanna Maasackers and Haslet Alp are responsible for marketing and media. Layout, photos and graphics come from product designer Isabel Thoma, who also designs the brand and the products. On the scientific side, Jan Dethloff and Sinah Kammler are involved, who are also writing their Master's thesis on this topic. They are researchers at the Institute for Environmental Technology and Energy Economics. "Franziska Ploch, Marc Conrad, Reiner Pürling, Helen Guttowski and Lennart Andersen and Niklas Rambow are helping with the further development of the technology. We are still working on a laboratory scale at the TU, but that will change at the beginning of next year. And Johanna and I keep the threads together and take care of strategic business development, financing, product and technology development "…oh, everything at the same time," Anne concludes, amused.
The goal: industrial production
Anne views the future with cautious euphoria. She appreciates the alternation of research and business development: "Our goal is to scale up the technology to an industrial scale in several steps in the short term. With our material, we can only really prevent plastic pollution if it is affordable. Price is an important factor in becoming a real alternative to conventional plastic. To be able to produce cheaply, we have to grow quickly. In the long term, production in large industrial plants is the goal – to make the biggest possible impact on the plastic problem," Anne concludes.
More about traceless:
More about "Cradle to Cradle" (C2C):
"Cradle to Cradle" (C2C) is an approach for a continuous and consistent circular economy. The principle, which can also be perceived as a philosophy or system, was designed at the end of the 1990s by the German chemist Michael Braungart and the US architect William McDonough.
On the "Calls for Transfer" (C4T) funding programme
The "Calls for Transfer" (C4T) project, launched in June 2018 as part of the new funding programme for technology transfer and innovation at universities and sponsored by the Hamburg University of Technology (TU Hamburg), supports scientists whose research results will help shape our society of tomorrow. The programme promotes the transfer of ideas, knowledge and technology at Hamburg's state universities by providing initial support of up to 30,000 euros for project proposals. In this way, 38 very different projects of a technical, scientific and medical nature, as well as from the cultural sciences and humanities, are already closer to their goal of sustainable realisation.