Student Training for Entrepreneurial Promotion
The step into self-employment is often associated with difficulties and uncertainty. STEP shows you how good ideas are created and supports you in starting your own business.
What is STEP Sustainability?
The Student Training for Entrepreneurial Promotion Sustainability (STEP S) is an action-oriented entrepreneurship training with a focus on sustainability. During the training, interested students learn about the entrepreneurial process by working in teams on actual startup projects.
In 12 sessions, evidence-based, entrepreneurial action knowledge is developed that can be directly applied in one's own startup project. The training is accompanied by an experienced trainer who supports the teams.
The 12 sessions cover the entire entrepreneurial process and convey content from the disciplines of entrepreneurship, sustainability, management and psychology.
The positive effect of STEP!
STEP creates self-confidence: STEP participants show higher entrepreneurial self-efficacy after the training. 
STEP helps to develop ideas.
STEP promotes business creation: One year after training, STEP participants start 34% more businesses.
What makes STEP unique?
STEP is evidence-based: The content and training methods are based on scientific evidence.
The training has already been successfully conducted with more than 10,000 people on four continents and is evaluated according to the highest scientific standards.
When does it take place and how can I participate?
The STEP training will be offered semiannual and always starts with a mandatory kickoff event. 
For the summer semester 2023 the mandatory Kickoff for the training is on the 05.04.2023 (17:30-19:30) at the Fab City Haus (Zippelhaus 5, Hamburg).
From then on 12 sessions will take place online every friday  from 9:15-12:45 (starting 14.04).
The final presentation for the founding projects will take place on 14.07.2023.
Who can register?
All members (students and staff) of the following institutions:
DESY
University of Applied Sciences Wedel
HAW Hamburg
Helmholtz Center Hereon
Helmut Schmidt University

Leuphana University Lüneburg

Hamburg University of Technology
UKE Hamburg
University of Hamburg
Maximum number of participants: 50 people
Target group:
People with an interest in founding a company who do not yet have a concrete intention and/or idea for founding a company.
Format:
12 sessions programm, online, course language is english.
Start:
05.04.2023 (17:30-19:30)
Kick-off in presence: Fab City Haus, Zippelhaus 5, Hamburg
Costs:
Free of charge for members of the compound facilities.
Application deadline: 26.03.2023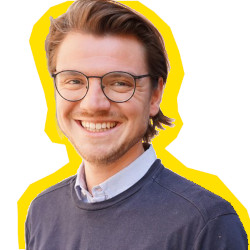 Leuphana Universität Lüneburg
Programm-Manager STEP